Step 1- Start here
Control Hub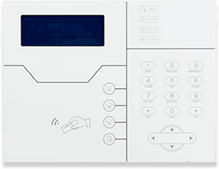 *It's a mandatory component
Control hub is the brain
of the system.
Step 2 – Choose Sensors




Step 3 – Other Accessories



Installation Service
2500/-
You also get...
You will get all the necessary parts for the installation.
1 year of free professional CMS monitoring.
1 year subscription of M2M sim card is included in the price.
Dedicated 24X7 customer support.
Lifetime free mobile app for the remote operations.
Instant alerts from CMS every time system is activated or deactivated.
Secondary communication channels are included as part of backup.
No contracts, No worries!
At the end of the free year, you can continue to subscribe to the monitoring service at a minimal cost.
However, if you do not want to continue monitoring, we can turn it off and reconfigure the system as a standalone unit.
Its all about flexibility!
I just placed my order, what happens next?
1

Courtesy Call

If you have selected the installation service, you will get a call within next 48 hours to discuss and agree the date and time for the installation.

2

Preparation

Technicians will configure the system, operators will test the system, and helpdesk will finalise the travel plans for our security expert.

3

Dispatch

Our Security expert will travel to your location with all the necessary components! We will confirm you the travel details beforehand.

4

Installation

Security expert will install the system professionally and test it once again. Once fully satisfied, he will handover it to you.

5

Monitor

CMS will start 24x7monitoring to receive, acknowledge and process each and every signal from the alarm system at your home.
Any Questions?
If you have any questions regarding your order or would like to know more about our products or services, just call us or use the live chat.